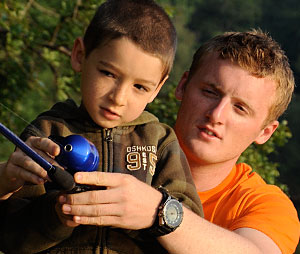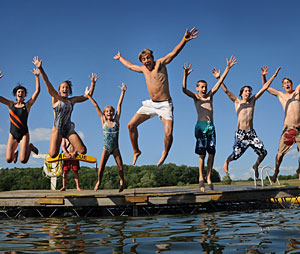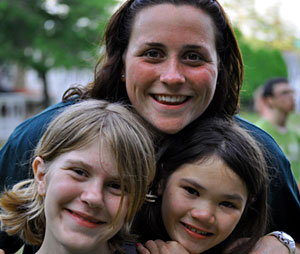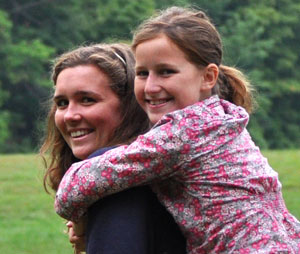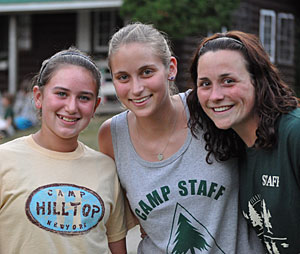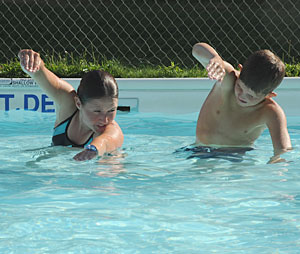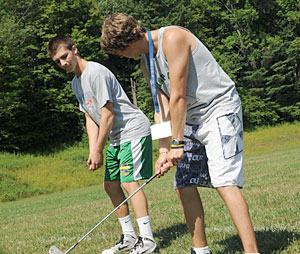 Camp Hilltop Staff
One of the keys to Hilltop's success is our staff. We take pride in the valuable people we hire. They are the most important people to our families, our campers and to us. We recruit counselors who are college age and above, as well as graduate students and teachers for our Senior Staff positions. The average age of the Hilltop staff is twenty-three.
Hilltop is an international environment both in campers and staff. Our staff comes from around the world, including; the United States, Canada, the United Kingdom, Australia, New Zealand, the Netherlands, Switzerland, Germany, and other countries. No matter where Hilltop's staff are originally from, they have a desire to have a positive impact on children, have specialized skills and have what we feel it takes to be a great camp counselor.
All Hilltop staff members go through an extensive application and interview process. We provide an in-depth, weeklong orientation prior to campers' arrival and work with them throughout the summer.
Hilltop has a high rate of amazing counselors returning each summer, to the delight of our campers and families.
2016 Staff Profiles
Here is a sample of some of the amazing counselors we have lined up for the 2016 camp season.
---
Name: Lesley
Age: 19
Hometown: Dundee, Scotland
University: I am studying Chemical Engineering at Strathclyde University in Glasgow where I also work at the University Sports Centre as a lifeguard and gym attendant.
Interesting fact about myself: I am a keen Water Polo player and have represented Scotland at an international level. I also play the bagpipes and have since I was 8 years old!
Experience with kids: I am an experienced swimming teacher and also used to be a leader at my local youth club. Before moving to University I was a leader at a Summer Camp for kids here in Scotland- although it was on a much smaller scale than Camp Hilltop!
Why I want to be a camp counselor: After attending Summer Camps here in Scotland when I was younger I know how much fun it can be, you make memories and friendships that will a lifetime. I want to make sure every child at Hilltop has this amazing experience and the best summer ever!
Why I choose to work at Hilltop: What seems to set Hilltop apart from other camps is the sense that everyone is part of one big family. Children are allowed to flourish at Hilltop and I can't wait to get there and join in the fun!

Name: Sonia 

Age: 19

Hometown: New York, USA
University: University of Vermont; Environmental Studies Major and Spanish Minor
Interesting fact about myself: I'm ambidextrous! 

Experience with kids: Six years of babysitting and working birthday parties. I also worked at a comic shop for children!

Why I want to be a camp counselor: I want to be a camp counselor because I really enjoy working with kids and making a positive impact on their lives. I think that camp is a great way to show kids a broader perspective on things, and being a part of their widened view is really incredible.

Why I choose to work at Hilltop: I chose to work at Hilltop because I had been a camper in previous years and I love the atmosphere the camp has. I have always felt at home and accepted at Hilltop. It's really the place to be! I've made many everlasting friends here and I know I'm not the only one.

Name: Michael

Age: 20

Hometown: Bronx, NY

University and Current Job: Massachusetts College of Liberal Arts, Psychology Major, Biology Minor and I work as a Lab Monitor at MCLA.
Interesting fact about myself: I have played tennis since I was 11 and play for my school.
Experience with kids: Frequent babysitter for kids of all ages.
Why I want to be a camp counselor: I enjoy working with kids and helping them learn and grow as people.

Why I choose to work at Hilltop: The programs seem amazing and the environment looks welcoming and great for developing overall, for both campers and counselors.

Name: Dayne 

Age: 18

Hometown: Greenwich, CT
University: Salve Regina University where I major in Social Work and minor in Creative Writing.
Interesting fact about myself: I love the mountains. I lived in Utah for a bit and that's when I really fell in love with nature. I enjoy writing poetry about the beauty of nature and just taking casual hikes on trails.

Experience with kids: I have been volunteering with kids since I was 16 in day camps and schools. Last year I worked at a day camp and that's when I knew I wanted to work with kids in a sleep away camp environment. My time I've spent around with kids is why I decided to pick going into my major- social work. I really want to better the lives of the next generation.

Why I want to be a camp counselor: I've spent summers away at camp since I was eight and really fell in love with the whole environment camp has to offer. The best friends of mine today are the ones I have made at the different sleep away camps I went to. I've also always admired and looked up to my camp counselors while I went to camp. I want to be there for and have an impact on my campers just like my staff did for me.

Why I choose to work at Hilltop: My mother went to this camp back when the girl's section was called Camp Hillmanor. She loved the experience she had here and being close to the Catskills region. I knew since I was young and went to sleepaway camp that I would love being a camp counselor. I feel really lucky now to say i am a part of the Camp Hilltop staff.

Name: Anthony 

Age: 25

Hometown/Country: Wellington, New Zealand
University:University of Otago – Bachelor of Physical Education Double Major in Sport & Exercise Prescription and Sport & Leisure Studies Otago Polytech – Graduate Diploma in Physical Conditioning
Interesting fact about myself: I have a Pet Snake
Experience with kids: Camp Hilltop 2015, Adaptive Snow Sports Program – Skiing for the Disabled (2013), Volunteer Work in Africa (2013).
Why I want to be a camp counselor: Working with kids presents many challenges and a lot of variety. They also often have a hilarious perspective on things which makes working with them fun. Kids are very impressionable, therefore as a camp counselor you hold a fragile balance of power to either make or break someone's summer camp experience. I also enjoy making an effort to be the best role model I can be and hopefully leaving a positive impact on their summer.
Why I choose to work at Hilltop: Spent the 2015 summer here and absolutely loved it and found the experience to be challenging as well as enriching and rewarding.

Name: Sara
Age: 20
University: University of Florida, Nursing
Interesting fact about myself: I have a twin sister who goes to Florida State University – one of my college's rival schools!
Experience with kids: I have volunteered with afterschool programs where I did various activities with kids. I have also been a counselor at a camp in FL. Mostly though, I spend time with kids during some of my clinical rotations at UF Health Shands Hospital. Why I want to be a camp counselor: Being a camp counselor has got to be one of the most exciting, fun, enriching experiences a young adult can have. Spending time with kids is always so refreshing, and it give you the opportunity to get to know children from a variety of places.
Why I choose to work at Hilltop: When I was 12 years old, I spend my first summer at Camp Hilltop. For two summer after I went back to experience the best summer of my life…all over again! The people you meet here, the friends you make, and the experiences you have are unparalleled. There is truly no place like Hilltop and I am honored to have the opportunity to come back and spend another summer here.

Name: Jasmine
Age: 21
Hometown: London, England
University: Middlesex University – Dance Performance 2nd year BA Hons
Interesting fact: I have been on an airplane every year since I was 2 years old
Experience with kids: I have led dance workshops at community centers for children where I would help them make up dance routines and explore different styles of dance. I have also been an assistant teacher at my dance school during my own training which required me to help the kids learn the technique and different steps in a fun environment.
Why I want to be a camp counselor: I want to be a camp counselor because I love teaching children and helping them progress by sharing the knowledge and passion that I have. I can't wait to spend my summer teaching the things I love!
Why I chose to work at Camp Hilltop: I chose Camp Hilltop because I agree with the idea of creating a family and community environment for the children at camp. I think this camp offers an extensive program of varied activities for the children to take part in and I also believe in the non-competitive community they strive to maintain as I think it's important for children to learn in a fun filled and comfortable environment.

Name: Daniel 
Age: 21
Hometown: Scotland
University and current job: I'm studying mathematics at the University of Edinburgh. I tutor math to 9-16 year old kids and also work at Toys'R'Us part time.
Interesting fact about myself: I can do the rubix cube in under 2 minutes every time. I've taken a helicopter over the Great Barrier Reef in Australia.
Experience with kids: Academically, I tutor kids math and physics in my spare time. In sports, I've coached kids the basics of badminton and football (soccer) and love helping them learn and develop their skills.
Why I want to be a camp counselor: Camp is a place where I can be myself and forget about 'life on the outside'. I love learning new skills and trying new things as well as watching kids have the best summer ever. Camp is a place where I can gain confidence and meet many new friends.
Why I choose to work at Hilltop: Hilltop is a camp like no other. As well as having loads of great sports and activities, it just has a great atmosphere and feels like my home away from home. My first year was so enjoyable that I had to come back and join the fun for another year!

Name: Jaylynn
Age: 19
Hometown: Bronx, NY and recently West Haven, CT
University: Studying Criminal Justice at the University of New Haven
Interesting fact about myself: At the age of 6, the length of my hair reached below my lower back and stayed that length until I cut it during my freshman year of college.
Experience with kids: I worked as a "Big Sister" to a 3rd grade girl during my junior year of highschool. I also worked as an assistant to a dance teacher in the dance studio that I trained at.
Why I want to be a camp counselor: My goal after undergraduate schooling is to study law and become a juvenile attorney. In order to become a successful one, I must understand children on a deep level and be able to make myself an equal to the child. Being a camp counselor is the only job that will allow me to work with children on a level deep enough that I can aquire the skills I need to be a successful attorney.
Why I chose to work at Hilltop: As I was researching camps to apply to, Camp Hilltop stood out to me mostly because of it's philosophies and beliefs. Camp Hilltop is a place where children are free to explore areas outside of their comfort zone in a safe manner. They are encouraged, rather than forced, to try new things which is what I liked most about Hilltop. I wanted to be part of an environment that allows children to grow in areas that they can choose rather than what is chosen for them, and this is what I found at Camp Hilltop.