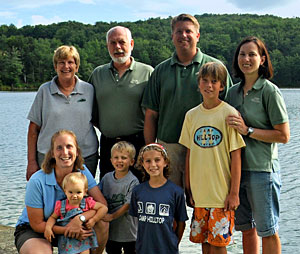 Meet the Owners & Directors
Camp Hilltop is owned and operated by the Young Family. Bill and Kathy Young and their children Scott, Melissa and Rebecca have been creating a safe, comfortable camping experience for children since 1979. Today, with the addition of Scott's wife Ann, the Young Family continues to direct Camp Hilltop.
Between them, they have more than 125 years' experience in the development of youth. The family brings complementary backgrounds with degrees in business management, finance, marketing, elementary education, special education and sociology for the betterment of our camp community. While growing up, the Young children attended camp.
Today, the third generation of Tyler, Kelsey, Noah, Ella, Kiely, Zach and Cooper are growing up with Camp Hilltop and all it has to offer, too. The Young's home is at Camp Hilltop. This is the real-life part of the concept that Camp Hilltop is a home-away-from-home and a family to all who join us.