Frequently Asked Questions About Camp Hilltop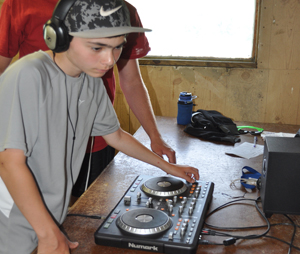 Q: Where is Camp Hilltop located?
A: Hilltop is located in Hancock, New York, just off New York Route 17. Approximately 40 minutes from Binghamton, two and half hours from New York City, two hours from Albany and five hours from Boston. Hancock is nestled between the Pocono and Catskill Mountain ranges at the mouth of the Delaware River. If you are looking at a map find the Northeast corner of Pennsylvania. Hancock is located just over the border in New York.
Q: How many campers are at Hilltop?
A: Hilltop has approximately 250 campers at any time.
Q: Where do most Hilltop campers come from?
A: The majority of our campers come from the East Coast (New York, New Jersey, Connecticut, Pennsylvania, Massachusetts and Maryland) but we also host campers from all over the United States and the world!
Q: How long are the sessions at Hilltop?
A: Hilltop offers sessions that last two, three, four, six or eight weeks.
Q: What percentage of Hilltop campers return?
A: Each year, approximately 80% of Hilltop's campers return for another summer of friends and fun.
Q: Do most campers come with friends?
A: Most Hilltop campers come to camp by themselves. Many have said they have found it is easier to make friends that way. Occasionally, we have campers who arrive with friends from home and that's okay with us. If that's what it is going to take to give your camper the confidence to try camp, great! Just remind them that there will be tons of new people to meet and to keep an open mind.
Q: What do I wear at camp?
A: Hilltop is not a formal place and we have no uniform. Camp is a great place to wear out old clothes. There are some occasions, for example, dances and casino night, for wearing nice casual clothes. There are some occasions (i.e. dance, casino night) for nice casual clothes. We just require that all campers wear appropriate clothing, including ones suitable for high activity levels and coverage for safety equipment in certain activities.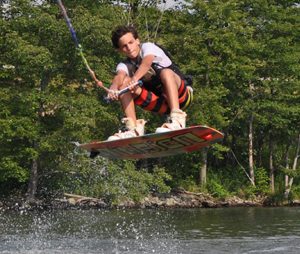 Q: Will I see my brother or sister at camp?
A: Hilltop has many siblings at camp. They see each other as much or as little as they would like to. The camp meets as a whole for three meals a day. In addition, we have two all camp meets between activities and evening program, so there is plenty of time when everyone is together. So if siblings want to see each other, these are great opportunities.
Q: Who can campers talk to if they have a problem?
A: There are always plenty of caring people to help: counselors, nurses, the program director, the head counselor and of course Scott, Ann, or Melissa are available anytime, day or night.
Q: Can a camper stay longer if they want to?
A: We love it when campers want to extend their stay with us. If we have room in the cabin for a camper to stay, we would be more than happy to accommodate them. However, please be aware that very often our cabins are full and space is limited.
PROGRAM
Q: Is Hilltop a competitive camp?
A: Camp Hilltop is a non-competitive camp. We believe that kids have enough competition during the school year. So we like to make camp a place to improve an already familiar activity or to learn a new one in a fun and friendly environment.
Q: Is the program free choice or are activities assigned?
A: The Hilltop program offers a mixture of both free choice and assigned activities during five activity periods each day. Two one-hour activities (cabin activities) are assigned by our creative program staff and the remaining three one and a half hour periods (two intensives and a free activity) are chosen by the camper. Our program is designed to expose our campers to a wide range of activities so they may continue to broaden their skills and areas of interest.
Q: Do I have to bring my own fishing pole, basketball or tennis racket?
A: Hilltop has all the equipment you will need to participate in our programs. Of course you may also bring your own, but please leave anything that is very valuable at home.
Q: How will I know what activity I have next?
A: The list of cabin activities is posted each morning. Intensives are picked on Sunday for the week and counselors keep a list of their campers' activities posted in the cabin.
Q: What happens on rainy days?
A: Lots of activities! We have ample indoor space and will adjust our program accordingly. Campers will never just sit in their cabin and watch the rain drops fall.
Q: How are campers assigned to cabins? Can I be in a cabin with my friend?
A: Hilltop assigns campers to cabins based on the grade they are entering in the fall. We certainly take requests for friends to be in the same cabin.
Q: How many kids are there in a cabin?
A: We have several different size cabins; holding anywhere from six campers to eighteen campers. However, most of our cabins hold 13 campers and 3 counselors. No matter what size the cabin is, the four/five to one staff ratio is a constant.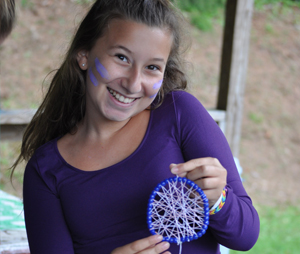 Q: Do we have to clean the cabin?
A: Yes. Hilltop, like any camp, operates using communal living. Part of living in a community is taking responsibilities within and for that community. It is each cabin's responsibility to keep their living space (bed, under the bed and cubbie) clean and tidy. Campers and counselors share the clean-up responsibilities like sweeping the floor, making beds, cleaning cubbies and taking dry clothes off the line, etc. However, it is our maintenance staff's responsibility to sanitize the bathrooms daily. The camp nurses will do cabin inspections each day and the cleanest cabins each week will win a prize.
Q: Can campers bring stuff to decorate their cabin?
A: Of course, your cabin is your home and you need to make it feel like that. We think it is great to bring pictures of family and friends and items that give the cabins that "homey" feel.
Q: Is a trunk necessary?
A: No, only if you want to bring one. Cabins do have cubbies where you can store your things and there is plenty of space for under-bed storage containers.
PARENT/CAMPER COMMUNICATION & VISITING
Q: Can I e-mail my camper?
A: E-mail is inbound only. You can send your campers e-mails via our web site. They are printed daily and delivered with the snail mail. Hilltop does not have the facilities that would allow for campers to return your e-mail.
Q: Does Hilltop have visiting days?
A: Yes, Camp Hilltop has two types of visiting days. There are Family Days that happen on the last Saturday of week four and the last day of camp, and we encourage your entire family to come and spend the day at camp. Your family can participate in activities or watch your camper(s) show off what they've accomplished. We provide a buffet picnic lunch. The second visiting day is the first Sunday of weeks three and seven, when parents can come and take their camper(s) out for lunch. The hours for visiting day are from 10:00 a.m. to 2:00 p.m.. Please note there is no visiting day during a two week session.
Q: Can I receive/send care packages?
A: Campers are allowed one package every two weeks. Food is NOT allowed and will be confiscated (food in the cabin invites small furry visitors.)
Q: Can parents and campers call/talk to each other while they are at camp?
A: There is not an open phone policy. Parents may call and speak to both the administration and cabin counselors to check on their child. Parents may also e-mail and write letters. Campers are encouraged to write letters home often. Cabin counselors will call to provide an update within the first week of your child's camp experience.
Q: Does Hilltop allow cell phones to be brought to and used at camp?
A: Hilltop does NOT allow cell phones to be brought to or used at camp. Please leave them at home. Camp is an opportunity for campers to get away from technology and further develop their interpersonal skills. If it is necessary to bring a cell phone to camp, for a trip or if you are traveling to camp on an airplane, it must be turned in upon arrival and will be returned upon departure. Phones not turned in upon arrival will be confiscated and returned when you leave.
FACILITIES & SERVICES
Q: Are there bathrooms in cabins?
A: Yes, all cabins have bathrooms (toilets and showers) with hot and cold running water and electricity. All of Hilltop's cabins are simple and well maintained.
Q: What kind of food do you serve?
A: The food we serve at Hilltop is much like the food you eat/serve at home, except a lot more of it. Some examples:
Breakfast: pancakes, French toast, eggs, cereal
Lunch: tacos, grilled cheese sandwiches, chicken nuggets
Dinner: turkey, hamburgers, stir-fry, spaghetti and always a pasta and salad bar.
We also offer a Vegetarian menu and our chefs are able to accommodate food allergies and sensitivities.
Q: What do I do if I feel sick?
A: Visit the Hilltop Wellness Center. It is staffed by two medical staff, an RN or an RNP and is open 24 hours a day.
Q: Who does the laundry?
A: Laundry is done once a week in our own laundry facility on camp property.
Q: Does Hilltop have religious services at camp?
A: Hilltop is not religiously affiliated so we do not have services on camp. We accept and welcome campers and staff from all backgrounds, religions and faiths. If campers wish to attend religious services, we will transport them to the services of their choice that are available in our local community.
Q: How do campers get to camp?
A: The majority of campers are dropped off at Camp Hilltop by their families. Hilltop does offer a bus from/to the New York City and Metro New York areas for an additional fee on the following days: first day of camp, last day of week four, first day of week five and the last day of camp. For campers who fly to camp, we offer an airport pickup for an additional fee.
STAFF
Q: How old is the staff?
A: The average age of the Hilltop staff is 23 years old. The minimum age for a Hilltop staff member is 18 years old with at least one year of university completed.
Q: Do the staff live in cabins with the campers?
A: Yes, the staff lives in the cabins with the campers.
Q: What is the ratio of campers to staff?
A: In general, Hilltop has four to five campers to every one member of the staff. The majority of our cabins have thirteen campers and three staff.
Q: How does Hilltop train their staff?
A: First, we seek staff that has had prior experience working with children. Then we provide an extensive one-week orientation prior to the campers' arrival. Among other things, we bring in child behavior specialists to instruct/guide our counselors, as well as run sessions on camp and cabin life. We offer certification courses in key areas such as the outdoor adventure course and waterfront. During the camp season, we hold Staff Development meetings every Sunday morning. In addition, Hilltop has an open door policy for all staff and campers.