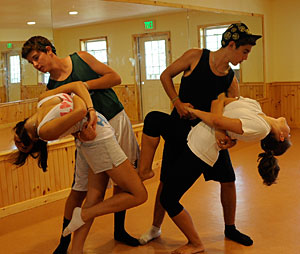 Camp Hilltop Daily Program
The Hilltop Program consists of six daily activities Monday through Saturday. The Sunday program has a different, more relaxed schedule. There are four different types of activities: cabin activity, intensive, free activity, and evening program.
Cabin Activity
Each day, campers experience two different hour-long cabin activities, one in the morning and one in the afternoon. Cabin activities are assigned by our program director and campers participate with their cabin group. This allows us to expose campers to the wide range of activities we offer at Hilltop. It also encourages kids to try an area of interest they might not have tried on their own, while further developing pursuits they are already familiar with. As they learn about new things and encourage each other, it also builds and strengthens friendships among the campers in their cabins.
Intensive
The intensive is an activity that the campers choose themselves. Therefore, an intensive activity will typically be a mix of ages and genders with a shared interest. It is an activity they would like to try to learn in more depth. Sign-ups for certain intensives, for example, horses, mountain bikes, and tennis are based on ability levels. This way, each child receives the appropriate level of instruction to foster confidence and skill development. An intensive is one and a half hours in length and runs three consecutive days. There are two different intensives each day, morning and afternoon.
Each week, campers have the opportunity to participate in four separate intensives. Each Sunday they pick their four intensives for the coming.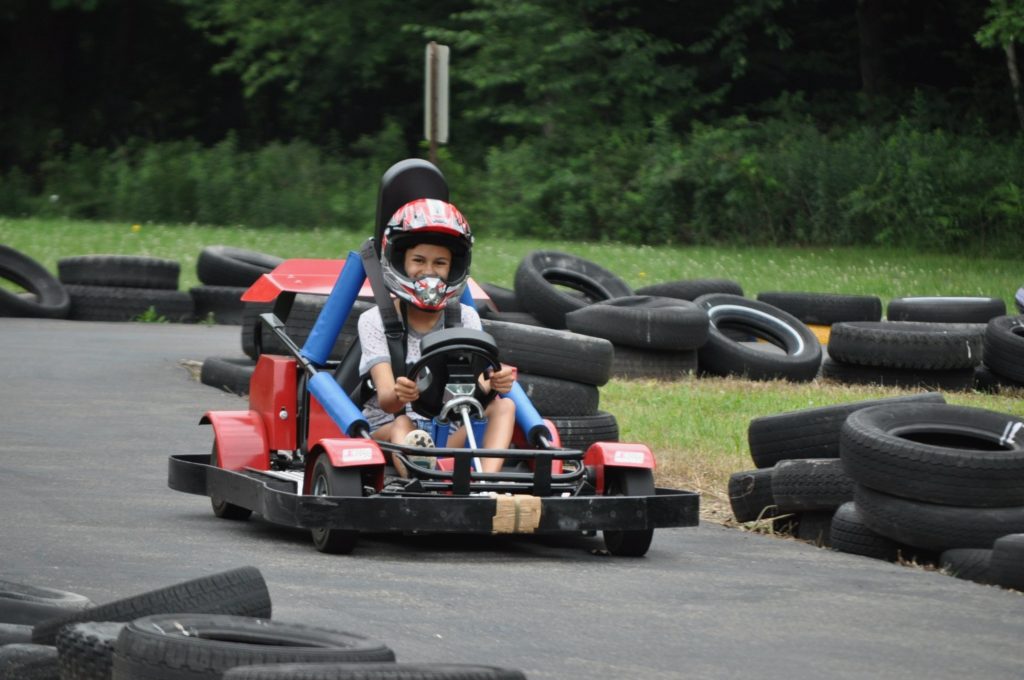 Free Activity
Each day campers may choose what they would like to do during Free Activity. Options include relaxing with friends, reading a book or participating in one of the other scheduled activities at Camp Hilltop. Free activity happens every day from 4:15 to 5:30 and on Sunday afternoons. All of the main activities are open and the campers can float between them or they can hang out with their friends in designated areas. The Camp Store is also open during free activity
Evening Program
After dinner each day, the evening programs begin. They are usually all-camp activities such as campfires, game shows, talent shows, and crazy games or races. A summer schedule is available on our website so campers can get a glimpse of the fun they can have!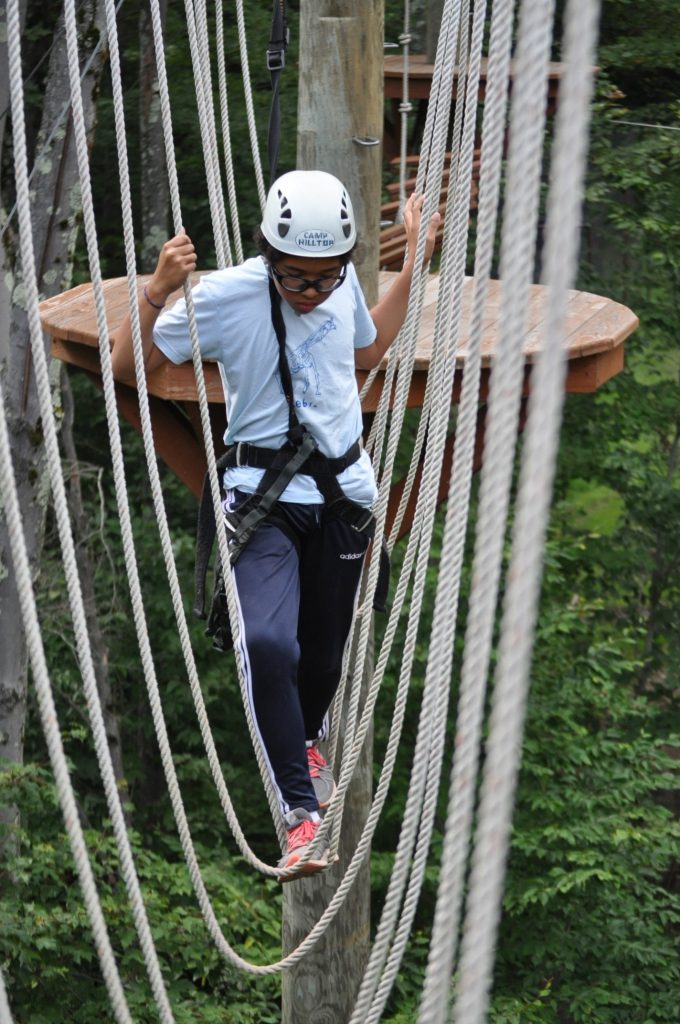 Daily Schedule Monday – Saturday
Flagpole 7:50 – 8:00
Breakfast 8:00 – 8:30
Cabin Clean Up 8:30 – 9:00
1st Cabin Activity 9:15 – 10:15
Change for Intensive 10:15 – 10:25
Meet 10:25 – 10:30
1st Intensive 10:30 – 12:00
Meet at Dining Hall 12:10
Lunch 12:15 – 1:00
2nd Cabin Activity 1:30 – 2:30
Change for Intensive 2:30 – 2:40
Meet 2:45 – 2:50
Intensive 2:50 – 4:15
Prep for Free Activity 4:15 – 4:30
Free Activity 4:30 – 5:45
Meet at Dining Hall 6:10
Dinner 6:15 – 7:00
Evening Activity 7:30
Daily Schedule Sunday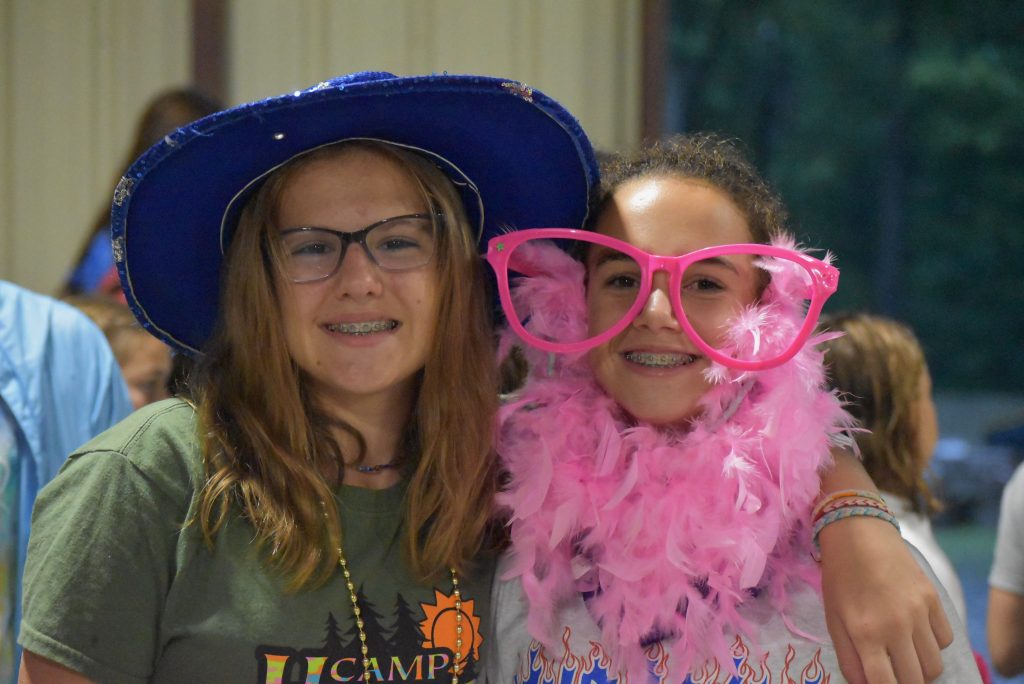 Sunday is what we like to call "Lazy Day." Breakfast and lunch are one hour later than on other days. Campers select their intensives for the week and have an extended afternoon of Free Activity where they can participate in as many or as few activities as they choose. A variety of activities are available to meet every interest, while campers also have an opportunity to relax.
Flagpole – 8:50 – 9:00
Breakfast – 9:00 – 9:30
Cabin Cleanup/Staff meeting, New Campers/Sports etc – 9:30 – 12:45
Meet at Dining Hall – 12:55
Lunch – 1:00 – 1:45
Intensive Sign Up – 2:00 – 3:30
Free Activity – 3:30 – 5:30
Meet at Dining Hall – 5:55
Dinner – 6:00 – 6:45
Evening Activity – 7:15