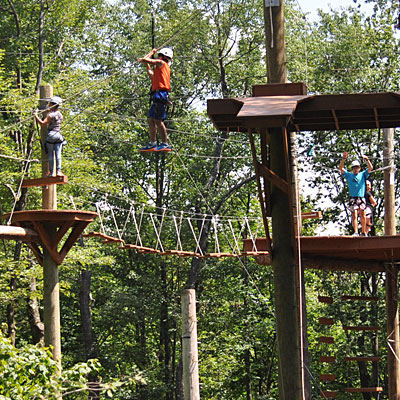 Outdoor Adventure Course
An Outdoor Challenge to the Mind, Body, and Spirit
Growth takes place when people become willing to face the unknown and make an effort to accomplish the difficult. It is on this premise that adventure courses are developed.
Ropes Course
A ropes course is an outdoor adventure program that offers groups and individuals the opportunity to participate in a series of activities involving mental and physical challenge, as well as emotional risk-taking. The experience includes a variety of sessions planned around various elements in order to examine and share common reactions, insights, and emotions such as joy, fear, fatigue, compassion and laughter. Here, we are able to simulate many personal and professional situations found in everyday life. Participants are challenged in a non-competitive, non-judgmental, and safe environment.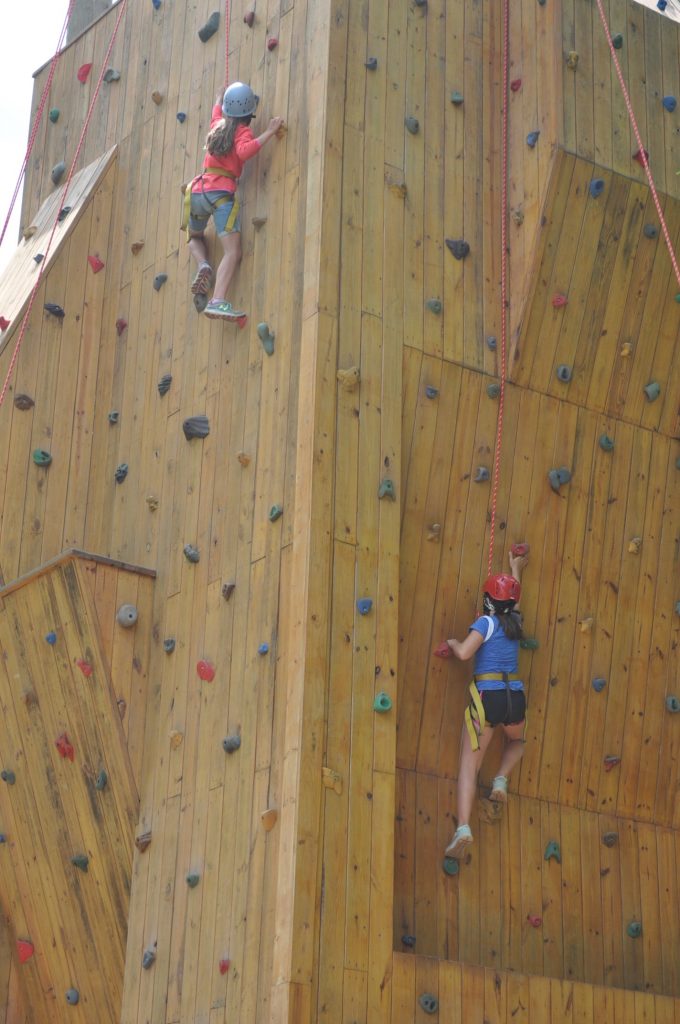 Low Ropes Course
Hilltop's low ropes course is an excellent opportunity for organizations that want to work on group dynamics. The team course is low to the ground. Although not as physically intimidating as our other courses, it challenges the mind. The group is given a series of obstacles that may only be accomplished by the group completing the process together.  Low ropes courses improve group skills of problem solving, brainstorming, teamwork, and develop many more everyday aspects of life
Tower
Hilltop's Climbing Tower is a four-sided structure with beginner and advanced climbing sides, a straight rappel and a helicopter drop. The tower uses rock-climbing principles and at thirty-two feet high, it really gets the blood pumping!
High Ropes Course
Hilltop's High Ropes Course is ever expanding and a bit awe-inspiring to look at! At thirty-five feet in the air, it is easy to see why this experience truly fosters personal growth!
The finale and highlight of the course is the 350-foot zip line – what a ride!
Vertical Playpen
A first for the country, the Vertical Playpen element is built with three entry points, allowing three participants to climb at one time. This is a truly awesome experience that is physically demanding and a little scary at the same time. Participants can climb up ropes, through tires and around logs while trying to ascend to the peak and ring the bell.
Giant Swing
Hilltop's Giant Swing is truly a team element! While one person is clipped onto a cable, the team pulls the participant up, up and up, forty feet into the trees! When the participant is ready, he/she can pull the trip lever and experience a total free fall. It is one of the biggest swings you will ever experience — and the process works on your self-esteem and trust.